Anti-Corruption Collective Action
One company's actions, while critical, are not enough to end corruption. Companies must join forces with governments, community-based organizations, NGOs and other businesses to act collectively against corruption.
Collective Action allows companies to:
Create deeper understanding of corruption issues
Consolidate knowledge and financial and technical resources to achieve greater impact
Create solutions that are perceived as more credible, acceptable and are more sustainable
Help ensure fair competition and a level playing field for all stakeholders
Create a more stable and enabling business environment
Compliment existing anti-corruption efforts in vulnerable regions and sectors, where industry or government-led regulations are not robust
Forms of Collective Action:
Integrity Pacts: An Integrity Pact is a short-term, project-or transaction-specific formal agreement between a customer (usually a public entity) and a bidder (usually a company), in which the parties agree to adhere to a fair and transparent public procurement bidding process (Developed by Transparency International)
Anti-Corruption Declarations: Anti-Corruption Declarations are short-term, project- or transaction-specific statements of intent to ensure compliance with anti-corruption commitments. Companies, governments and/or sub-contractors can all be signatories of an Anti-Corruption Declaration
Certifying Business Coalitions: Certifying Business Coalitions can be applicable to a country, region or sector. To join, a company must show a clear commitment to anti-corruption principles and adhere to ethical business standards. Regular independent audits and monitoring processes ensure compliance
Principle-Based Initiatives: Principle-Based Initiatives promote the integration of transparent business practices in a country's corporate culture in a sustainable and long-term manner
Education and training: Education and training can be conducted as part of Collective Action, and are critical to raising awareness and building capacity to fight corruption
Current Collective Action Projects
We collaborate with various organizations including our Global Compact Local Networks (GCLNs) to promote Collective Action efforts. Our efforts aim to increase business integrity, enhance transparency and bring the private sector, governments, and civil society together to collectively advance the anti-corruption agenda and contribute to the achievement of the UN Sustainable Development Goals – specifically Sustainable Development Goal 16 and target 16.5 on fighting corruption.
Through the first two rounds of funding from the Siemens Integrity Initiative, we have carried out activities specifically focused on advancing Collective Action efforts in Brazil, Egypt, India, Japan, Kenya, Nigeria, and South Africa (click here to see projects carried out in the first and second funding rounds).
We are currently implementing two global projects in collaboration with GCLNs across Africa, Asia, Europe and Latin America to promote Collective Action against corruption and facilitate private and public cooperation in the fight against corruption.
In December 2019, the UN Global Compact launched a four-year project, Scaling up Anti-Corruption Collective Action within Global Compact Local Networks. The project adopts a three pronged approach:
Development of the Uniting against Corruption: A Playbook on Anti-Corruption Collective Action for GCLNs to mainstream the understanding and uptake of Collective Action,
Global launch and roll-out of the Collective Action Playbook to enable GCLNs in understanding and using the Collective Action methodology to identify and address corruption issues and
Support GCLNs in Brazil, India, Kenya and Ukraine in their Collective Action initiatives.
In July 2021, the UN Global Compact launched a three-year project, Advancing Collective Action Against Corruption through Global Compact Local Networks. The project aims to expand and build upon the activities under the project, Scaling up Anti-Corruption Collective Action within Global Compact Local Networks, by:
The projects are supported under the Third Funding Round and Golden Stretch Funding Round of the Siemens Integrity Initiative.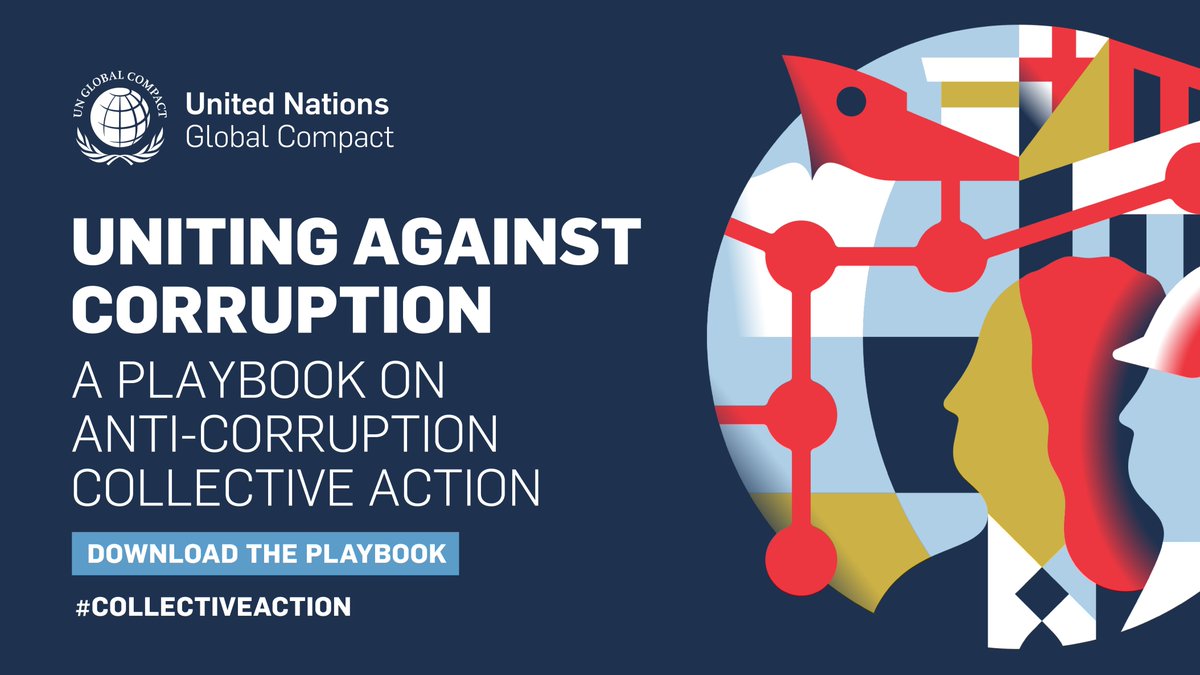 UN Global Compact Academy E-Learning Course on "Fighting Corruption through Collective Action"
To further disseminate training on anti-corruption collective action, UN Global Compact Anti-Corruption Programmes in collaboration with our
UN Global Compact Academy has now launched a new e-learning course entitled "Fighting Corruption Through Collective Action: a six-step approach".
Course title: Fighting corruption through Collective Action: a six-step approach
We urge our participants across 160 countries to proactively develop policies and initiatives to address corruption within their organizations and communities. To build toward a better future for all, we must work collectively to eliminate corruption at all levels everywhere.