Sustainable Agriculture Business Principles
Engagement opportunity: Stakeholder Consultation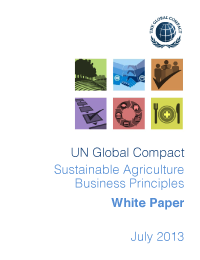 All are invited to participate in the development of the Sustainable Agriculture Business Principles by providing feedback on the White Paper (available in 中文 | English). Please share your views by completing the consultation questionnaire, also available in 中文 and English. We are interested in receiving input specifically on the outcomes that sustainable agriculture business principles will achieve; the factors for achieving these goals and the actions that are needed.
我们诚邀各位对白皮书内容提出反馈意见(白皮书详见 中文版),参与《可持续农业商业原则》的制定。欢迎大家填写网上问卷(可选中文或英文版),对《可持续农业商业原则》应实现目标、目标有关的关键因素以及需采取的行动等方面提出宝贵的建议。参与问卷,请点击下方"Participate"按钮。

With the world's population expected to grow by 30% to 9 billion by 2050, the demands on agriculture will continue to grow. Agriculture occupies one-third of the land surface of the earth and is at the nexus of climate change, food and energy security, sustainable livelihoods, economic development and human rights. Business has a critical role to play in delivering practical, effective and scalable solutions to meet the global challenges of food security and sustainable agriculture.
While considerable progress has been made by the private sector to date – through mechanisms such as the Sustainable Agriculture Initiative and commodity roundtables, Governments continue to face challenges in aligning their agricultural, resource, export and import management policies with the sustainable development agenda.
To advance the positive impact that business can have in this space, the UN Global Compact is facilitating the development of voluntary Sustainable Agriculture Business Principles (SABPs) in collaboration with key civil society organizations and experts. The SABPs will:
articulate a common understanding and agreement on the resources, ecosystem services and socio-economic impacts needed to build resilience into agricultural supply systems and the markets that they serve.
support the objectives of relevant UN agencies by offering a basis for responsible businesses to align to the goals of the UN as articulated in the Rio+20 outcome document The Future We Want; and
provide a framework for furthering good practices, and for developing effective private and public sector policies and partnerships.
The development of the SABPs is proposed in response to the need for a common understanding between existing standards and industry initiatives. Today global thinking on what constitutes sustainable agriculture remains fragmented. Existing schemes, including certification standards, are not designed to address global agricultural challenges in a holistic fashion and often are not inclusive of the majority of the world's small farmers. By defining broadly accepted business principles and building upon progress made, the SABPs are aimed at filling gaps between crop-specific initiatives developed and led by industry and government.
Contact
General Inquiries: sustainable.agriculture (at) unglobalcompact.org

Puvan Selvanathan
Special Advisor, Sustainable Agriculture
UN Global Compact
puvan (at) unglobalcompact.org

Adrienne Gardaz
Policy Adviser & Programme Manager
UN Global Compact
gardaz (at) un.org